Whenever you publish a new content in your website you need to notify your website users about it. For this you can either send manual emails or you can take help of FeedBurner which sends them these emails automatically. Yes FeedBurner does all you work here and automatically sends email to your website users when you have a new or updated content in your website. I suggest everyone to set up FeedBurner in their websites. In this tutorial I will explain you everything about FeedBurner and how to do its setup in your website.
What is RSS
First let us explain you "What exactly is RSS". RSS means "Really Simple Syndication", it is a URL of your website which holds all your website contents, starting from the newest one to the first. For example the RSS URL of a WordPress website is http://www.yourdomain.com/feed/. This RSS URL (also known as Feed) can be read by RSS Reader Programs (like Feed Demon, My Yahoo, RSS Owl, etc).
Many people, instead of visiting your website again and again to read new content, uses these RSS Reader to get the content. Yes you can also call the RSS Reader programs as Newspapers delivering content from your website to the subscribers.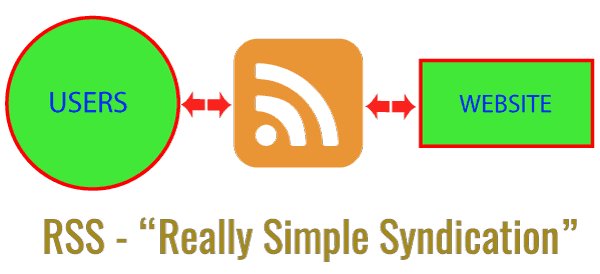 What is FeedBurner
FeedBurner is a management tool of your Website RSS feed. When you add your website RSS Feed to FeedBurner, it gives the feed a new URL (something like http://feeds.feedburner.com/anyname). It also tracks everyone who subscribes to this Feed and also track there clicks too. FeedBurner provides many other goodies too.
FeedBurner also allow you to create an Email Subscription Form in your website. People can become your website subscribers by filling this form and will be notified with automatic email every time there is a new content in your website or a previous content is updated.
Setting Up FeedBurner RSS Feed
Below are the steps for Setting FeedBurner RSS Feed –
1. Open FeedBurner, since it is a Google product you can log in with your Google Credentials.
2. Next enter your website RSS Feed URL in the "Burn a Feed" textbox and then click the Next button. For a WordPress website it is http://www.yourwebsite/feed/ (of course "yourwebsite" here is your website domain name).

3. Next you will see "Burn a Feed" message where it asks to give the Feed a title and address. So give your feed a nice title so that people can identify it and an address (keep the address as one word only).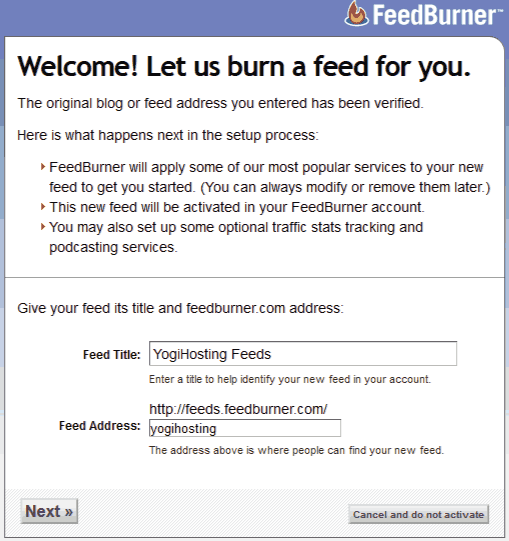 4. You will see a "Congrats Message" telling that your feed is set up in FeedBurner.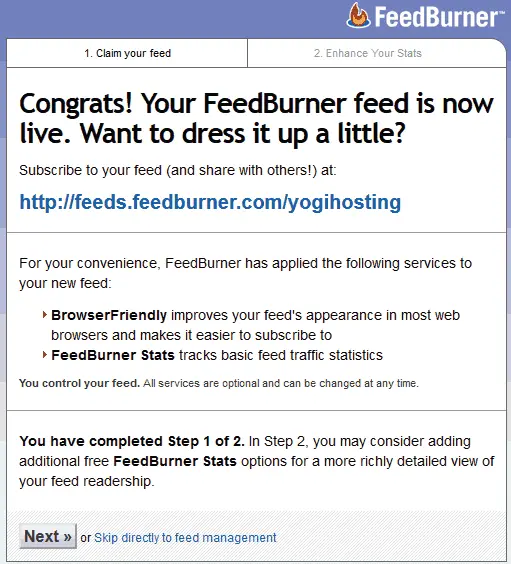 5. Next FeedBurner will ask you to select the tracking options which you like to have for your feed. So select all the checkboxes there and click Next button.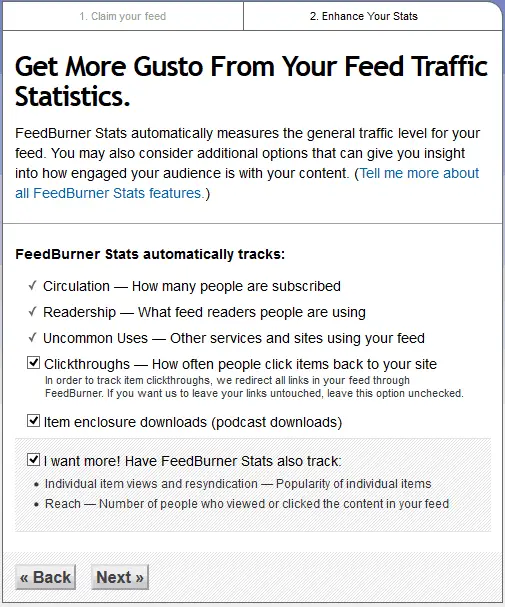 6. You will see the Success message telling your feed is updated with the tracking options selected by you.
This completes the FeedBurner setup process. You might remember that you gave your feed an address in step 3. Note that this address will be your FeedBurner RSS feed address. You can open it in your browser and see how it looks.
In my case, the FeedBurner feed address is http://feeds.feedburner.com/yogihosting. Now whenever someone subscribes to this feed you can get insight to the feed analytics like the subscribers email, no of views, no of clicks and so on. This is very helpful to know your website feed performance.
FeedBurner Email Subscription Form
You can easily add FeedBurner Email Subscription Form in your website. Through this form people can subscribe their emails to your website. FeedBurner will send them email notifications whenever you publish a new content or update an already existing content in your website. The content can be anything like page, blog, images, etc.
First activate FeedBurner Email Subscriptions service located in the "Publicize" area.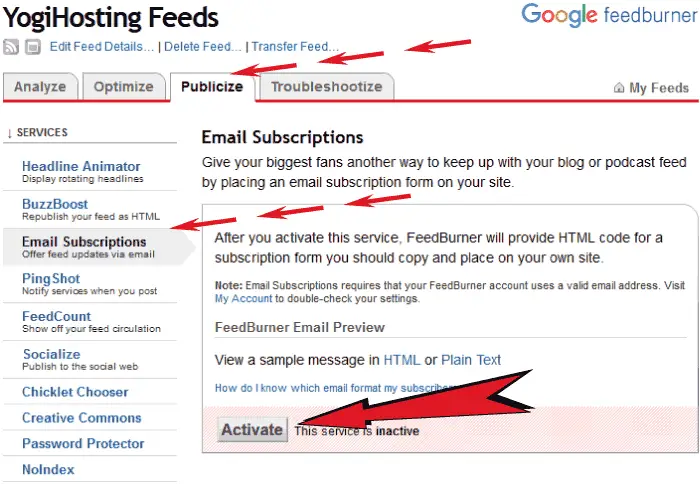 After activating email subscription service FeedBurner will provide a Subscription Form Code. Copy this code and paste it in your website page – footer, header, sidebar or any other place you want the form to show up.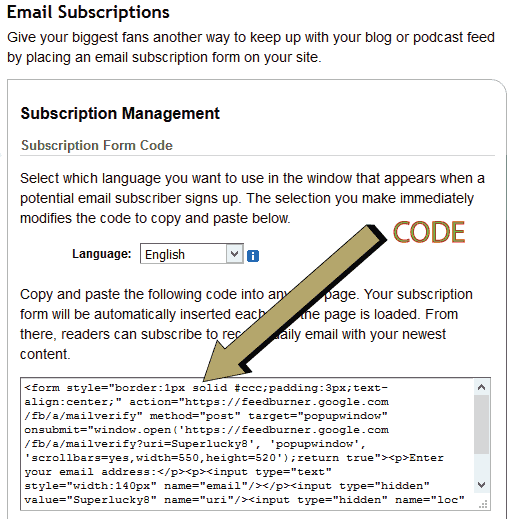 After doing a bit of CSS Styling this is how the FeedBurner Email Subscription Form looks in YogiHosting website.

Hope you like this tutorial. Do let me know if you faced any problem while setting up FeedBurner.