Entity Framework Core also known as EF Core is the latest version of Microsoft's Entity Framework. It is an Object/Relational Mapping (O/RM) framework, an enhanced version of ADO.NET, that automates data storage and retrieval from the database. EF Core is very powerful and also very easy to learn and use in your projects.

This tutorial is a part of Entity Framework Core series.
1. Introduction to Entity Framework Core
EF Core can be use with with both .NET 4.5+ and .NET Core applications. It runs on all OS – Windows, Mac, Linux.
EF Core Supported Application Types
You can use Entity Framework Core on:
1. Console Applications
2. Windows Applications
3. ASP.NET Web Forms
4. ASP.NET MVC
5. ASP.NET MVC Core
6. WPF
7. Xamarin Framework.
8. Web API
EF Core Versions
| EF Core Version | Release Date |
| --- | --- |
| EF Core 3.1 | February 2020 |
| EF Core 2.0 | August 2017 |
| EF Core 1.1 | November 2016 |
| EF Core 1.0 | June 2016 |
Working on EF Core
There are 2 approaches when doing development in EF Core. These are:
1. Database First.
2. Code First.
There is very little support of Database First approach since there is no visual designer, like .edmx file, in EF Core. The EF Core mainly supports Code First approach.
Database First Approach
In Database First approach the domain & context classes are created based on the existing Database.
Code First Approach
In Code First approach the domain & context classes are created by you then EF Core created the database using these classes. The term Migration is used whenever EF Core creates or updates the Database based on the domain & context classes.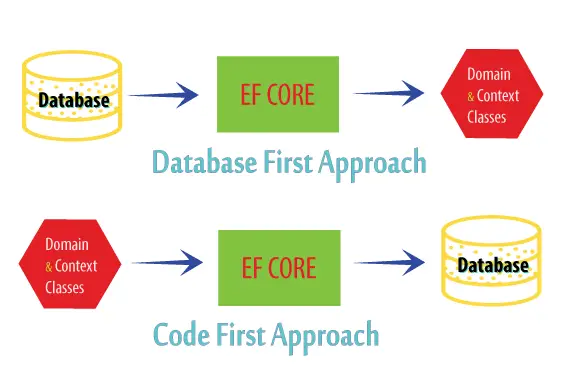 Entity Framework Core Features
Some important features of EF Core are:
1. DbContext & DbSet
2. LINQ Support
3. Tracking
4. Migrations
5. Batch Insert, Update and Delete operations
Supported Databases
Entity Framework Core works on many databases like:
1. SQL Server
2. MySQL
3. PostgreSQL
4. SQLite
5. SQL Compact
6. Firebird
7. Oracle
8. Db2
Xaero – Entity Framework Core Advanced Project
is my latest project where I have created a full Movie Database based ASP.NET Core App in Entity Framework Core. In this project you will find lots and lots of reusable high quality codes.