This setting let WooCommerce know where to send buyers when they access the different pages of your eCommerce website.
My Account Page
It can be selected from the dropdown list control. This page will be shown by WooCommerce to your customer when they click My Account page in your store.
Suppose you don't have your own products to list in WooCommerce, in such a case you can list
WooCommerce External Products
and earn commission by leading their sales.
My Account Endpoints
It provide option to append specified text to the URL in order to handle specific actions on the accounts pages.
Following can be specified
View Order
Edit Account
Edit Address
Lost Password
Logout
Registration Options
It provide options to Enable Registration and Account Creation fields.
Enable Registration field options are –
Enable registration on the "Checkout" page
Enable registration on the "My Account" page
Display returning customer login reminder on the "Checkout" page
Also you should make sure that you have done your
WooCommerce General Settings
correctly. The general settings includes choosing your currency from USD, Pound, Euro, etc, base location, selling location, and other important things.
Account Creation
The field options are –
Automatically generate username from customer email
Automatically generate customer password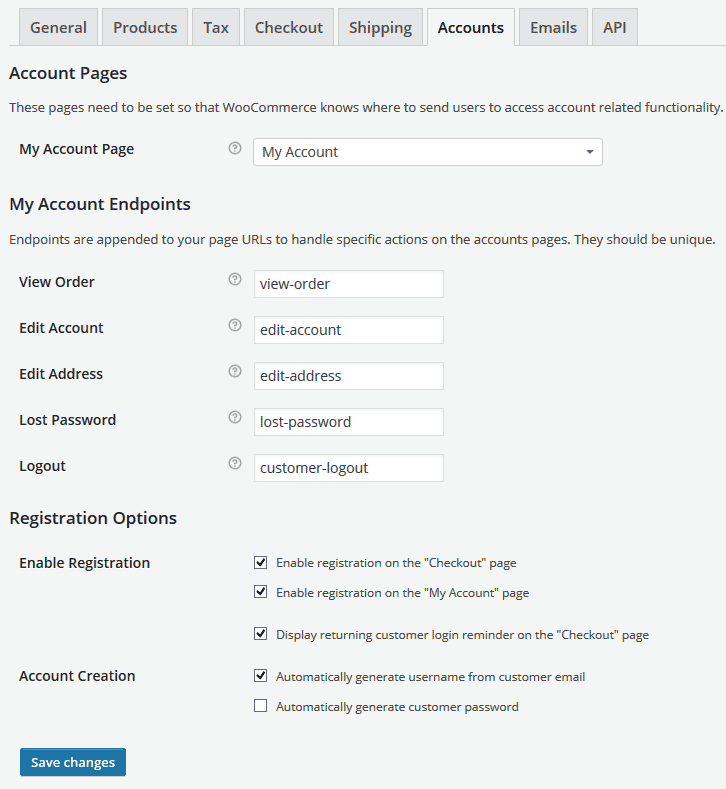 You should give your customers a perfect experience when they do the checkout. The
WooCommerce Checkout Settings
area is the place to do these checkout settings of your online store.
WooCommerce Settings Tutorials
Below are the WooCommerce Settings tutorials which will help you to do various setting in your Website.
6. WooCommerce Accounts Settings