WordPress is a very popular name in the internet and surely you may have heard it somewhere or the other. You may have noticed that people recommend WordPress instantly for making blogs and website. If you ask What is WordPress? – The answer would be that WordPress is a powerful and most widely used tool to make make any sort of website including a blog, personal website, business one or an eCommerce website. The best part of it is – it is 100% free.
How To Use WordPress
There are 2 ways To use WordPress.
The first one is by using a Self Hosted WordPress, which can be downloaded from https://wordpress.org/download/. Then upload the downloaded WordPress files in your web server.
The second one is by creating a WordPress Website from WordPress.com.
The first way is the better option than the second because it gives you full control over your website like changing the design using CSS, changing the code, uploading and changing plugins and themes, using custom domains, and almost anything you need.
However, if you need a simple working website only, and that too without too many options, then WordPress.com is a good option.
To understand how to use WordPress, there are just 3 basic steps to follow –
1. Register Domain and Buy Web Hosting
The first step is to Register Domain from where your WordPress Website will run. Then Buy a Web Hosting which supports WordPress. Today nearly all hosting supports WordPress so you don't have to worry about anything.
2. Install WordPress in your Hosting
The second step is to Install WordPress in your Hosting. The WordPress Installation in the hosting can be done easily with just a few clicks. Check our article on How to Install WordPress for more information.
3. Choose a theme and Plugins
After Installing WordPress, log on to your WordPress Dashboard, and choose a desired themes and plugins and start building your website with posts, pages, products & media.
You may also like to know few of the terms associated with WordPress. These are explained below.
What is WordPress Dashboard
The WordPress Dashboard is the first page that comes after you log in to your WordPress Website. It gives a general summary of what's happening currently in your site. It shows your recent activities in terms of post published, comments received, WordPress latest news and a few links to get started.
WordPress Admin Login
To find WordPress Admin Login, open be the URL of your WordPress Website followed by /wp-login.php. For example –
If your WordPress Website URL is
www.example.com
then WordPress Admin Login URL will be
www.example.com/wp-login.php
If your WordPress Website, is in a sub directory of a domain eg 'blog', and the URL is www.example.com/blog/ then WordPress Admin Login URL will be www.example.com/blog/wp-login.php
What is WordPress Themes
The WordPress Themes provides the design of your website. You can install a new theme by either uploading it or choosing it from the WordPress directory.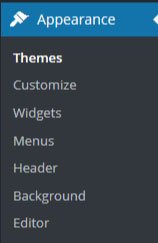 The location of themes in the dashboard is Appearance > Themes. There are thousands of free and premium themes available to use.
What is WordPress Plugins
WordPress Plugins are software which can be used to provide different functionality in the website. Like Themes, there are thousands of free and premium plugins. Plugins can be installed by either uploading or automatically from WordPress Plugin Directory.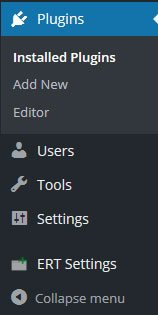 Click Plugins link on the left corner of your dashboard to go to the plugins area.
How to Learn WordPress
WordPress is easy to learn. All you have to do is to start adding pages, post, products, and images from the Dashboard. I have created a series of tutorials on how to learn WordPress to create and manage your site.
The most popular ones are –