Doing SEO properly is a very important thing for your website. This is because it gives higher rankings to your site in Google search. Higher rankings in SERPs (Search Engine Results Page) drives more traffic to your content and there are many factors on which the search rankings of content depend.
These factors which affect the rank of your content are given below:
1. Content is King
A good content is always needed. It should address the readers in proper manner. Every reader wants relevant and valuable content which clearly defines what they are looking for. A good content must address the following things –
a) It should provide trust to its readers, in the way so that they believe what the content tells them.
b) Provide as much original content as possible.
c) Use proper grammar, punctuation and language.
d) Avoid

spammy

tactics like using like saying the same thing more than once. Also never put links to spam websites nor get links from them for your content.
2. Bounce Rate
Bounce rate is the percentage of visitors leaving your website from the entrance page, and without interacting with other pages of the website. High bounce rate is futile for your content.
Bounce rate of greater than 70% is bad while less than 70% is good.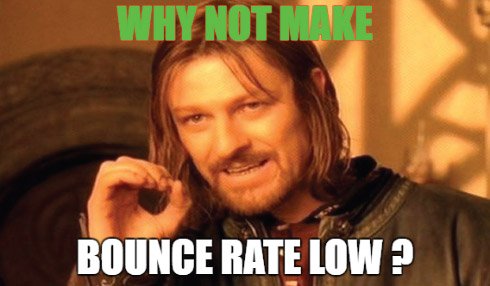 Bounce rate depends mainly upon the structure of your website. Some things which may help in lowering it are –
a) Showing related contents at the end of your content or in the sidebars.
b) Showing the most commented or most read contents, in the sidebars or below the content area.
Don't hesitate in experimenting new things which can lower the bounce rate even further.
3. Time spent on the page
Google calculates the time a visitor spends reading your content. If your content is good the reader will spend more time reading it. He will read the full content which may take 1 minute or more. If he didn't like your content he will read a couple of lines before moving to another web page or may close the browser's tab.
So here he will just spend a few seconds, and by the number of seconds spend on your content page, google identifies whether the content is good or bad.
Less time spent by a user is bad for your content. Therefore write in such a manner so as to keep the user engaged with it. Starting lines of the content should be very good and provide the readers with a perfect idea of what the content is all about.
Some of the things you can employ to increase the time spend by the visitors are –
a) Putting comment areas at the end
It will ask user to fill the comments section and he may also be tempted to to do so. A quick login with facebook or google button may be very helpful here, because giving comments need the user to be logged in to the website.
b) Mail subscription form
Visitors may be tempted to submit their email address for notification regarding new contents coming to the website. Mail subscription form can be provided in the sidebar or the bottom of the website.
4. Social Media
– Not to forget to do Social Media SEO, as social media is very important in bringing visitors to your content pages. Facebook, twitter, google plus, instagram, tumblr and pinterest are very helpful in propagating new content, within a matter of few hours.
Using #tags in facebook and twitter helps a lot. Google also keeps a track on social media and the visitors coming to your content pages from them. Contents that are getting high number of visits from social websites on regular basis are given thumb up from google.
SEO is always needed for good rankings in SERPs. SEO is not restricted to only the above 4 points. But if you perform these points properly you will surely see results.
To keep track on how your SEO is going on, you must check the number of visits your content pages are getting on daily basis.