Last Updated: March 1, 2020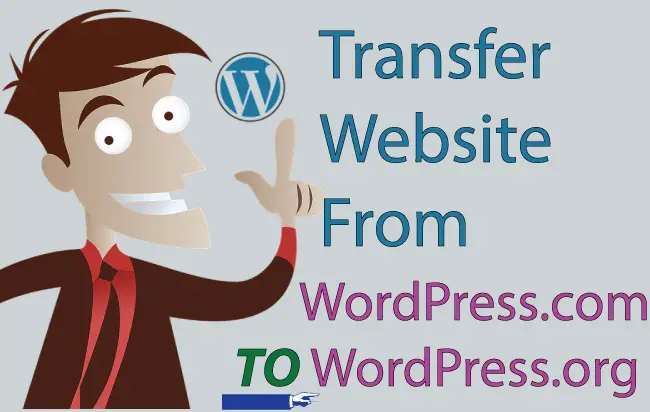 Running website or blog through WordPress.com is good but only up to a certain point, after that you have to move your website to self-hosted WordPress i.e. WordPress.org.
The reason to transfer your website from Wordpress.com To Wordpress.org is mainly because self-hosted WordPress (WordPress.org) provides you with full control of your website (Themes, Plugins & code). This full control of your website is missing in WordPress.com.
Benefits of WordPress.org
Totally Free and you don't have to pay for adding stuffs and features to your site.
You can use millions of Plugins that are free to use from WordPress.org repository.
You can show ads in your website and earn money.
Free to use millions of theme without any restriction.
WordPress.com sometimes restricts some websites that are not following its policies. This is not there when you are using Self Hosted WordPress.
Serious bloggers should use WordPress.org
(more…)
Last Updated: March 30, 2021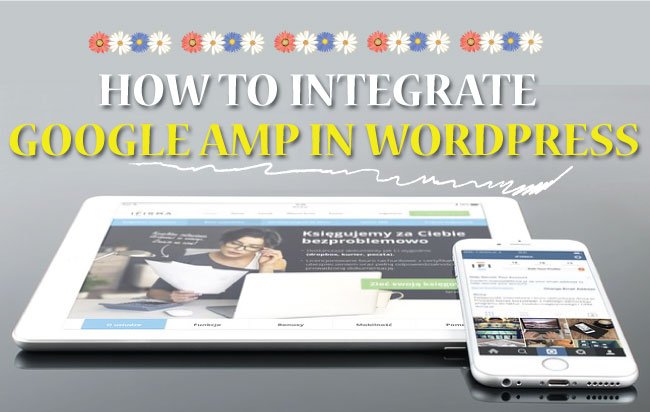 Do you know 40% of all visitors abandon websites that take more than 3 seconds to load? To reduce the time of loading in mobile devices, Google has brought Accelerated Mobile Pages (AMP) technology. With AMP your website pages will become super light weight and get super fast loading speed. Google AMP is definitely going to make your visitors much happier now.
It is well known fact that Google is giving preference to AMP Websites in mobile search. Moreover AMP plays a key role in SEO to:
(more…)
Last Updated: February 28, 2020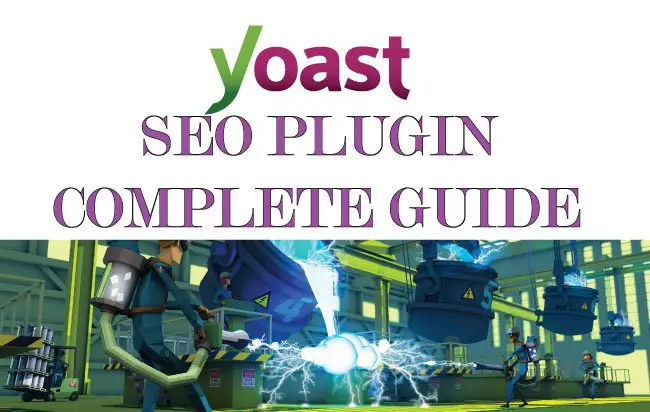 Yoast SEO Plugin is a must to have for every WordPress site. It offers complete SEO integration and warrants that your website remains optimized for Search Engines. The best part of it is that you don't need the knowledge of SEO for using it, and at the same time can find and fix the non-optimized areas of your site.
The aim of this tutorial is to teach how to setup and use this plugin. Since I will explain everything from the beginning therefore people who are really new to SEO can understand easily.
So let's start it without delay.
Installing Yoast SEO Plugin
In the WordPress dashboard go to Plugins > Add New, then in the Search Plugins textbox enter Yoast SEO.
(more…)
Last Updated: February 26, 2020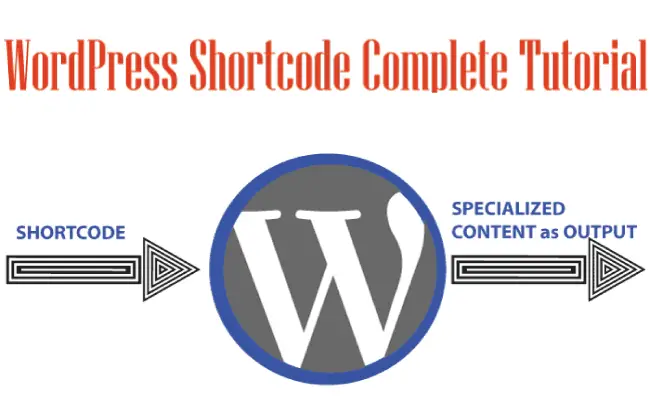 There are instances when you want to show specialized content in your WordPress Website like recent post, Buy on Amazon Button, twitter widgets, but does not know how to do this. The good news is that WordPress provides you with an easy solution for doing such works with Shortcodes. In this WordPress Shortcode Tutorial I will explain you how to create your Shortcode and use them in your website.
What is WordPress Shortcode ?
WordPress Shortcode in general is a shortcut for a specialized content (output). It is just one line code that can be placed in your WordPress website's page and posts. The WordPress Shortcode is always contained within square brackets.
(more…)
Last Updated: February 26, 2020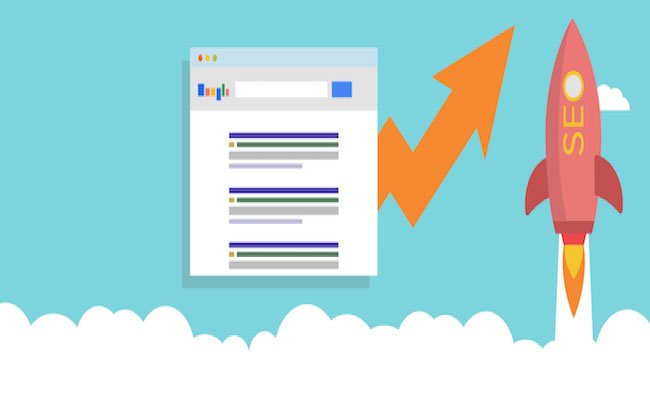 All In One SEO Pack is one of the most widely used WordPress Plugin for SEO. Its popularity can be judged by the fact that it is downloaded more than 3 million times till now. It is the Best SEO Plugin for WordPress and in this Guide I will explain all its features which you can use to do WordPress SEO.
Why you Need All In One SEO Pack
By default WordPress websites do not have features to add Meta Tags directly in pages and post. So with this plugin you can do these things.
1. Add Title to Page/Post.
2. Add Meta Description to Page/Post.
3. Make them

NOINDEX

which means telling Search Engines to not to index the given page or post.
(more…)
Last Updated: February 26, 2020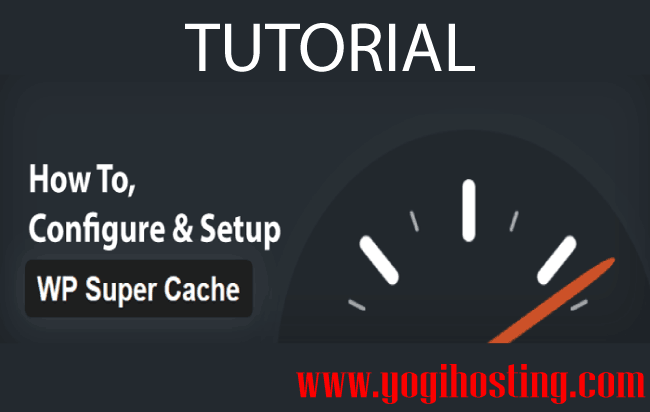 Website Loading Speed issues can reduce the traffic drastically. Not only this, it is also bad for SEO, as Search Engines do not give good rankings to slow websites. Many of the WordPress users hire developers to solve this slow loading speed, but hiring a professional is a very costly affair. I want to tell you that you can solve this problem by your own.
WP Super Cache Plugins provides you the solution. It uses the features of WordPress Cache and improves the website speed drastically. The best thing about this plugin is that it is completely free to use. In this tutorial I will explain you how to configure and setup this plugin in your WordPress.
(more…)
Last Updated: February 26, 2020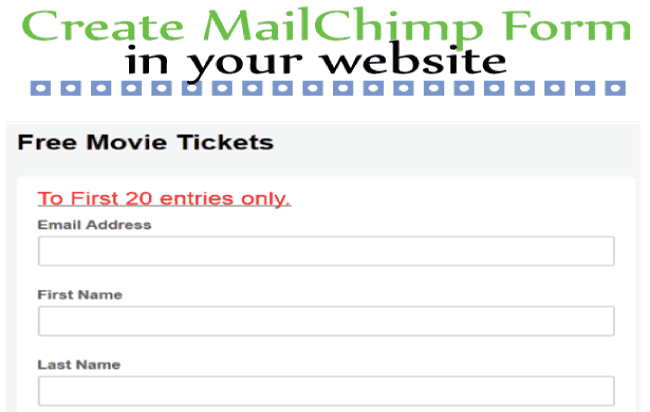 MailChimp give you the power to make different types of forms for your website. You can place these forms in your website and allow people to fill and submit it to you. MailChimp Form can be used by anyone and does not require HTML, CSS or Form building technical skills.
Also these forms can be filled by visitors, right in your website, and without leaving it. They can also be styled to match the colors and fonts of your website. In this tutorial I will explain all this about MailChimp Forms from the beginning.
(more…)
Last Updated: March 1, 2020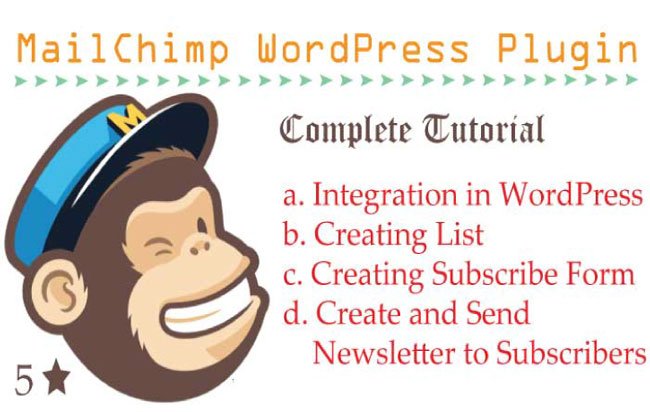 MailChimp WordPress Plugin lets you to connect your WordPress website to your MailChimp account. With this plugin you can add an email subscribe form in your website, and this will allow people to subscribe to your newsletter right from your website. Of course you can also send newsletters/emails to your subscribers from your MailChimp.
In this tutorial I am going to show you how to harness the power of MailChimp and start your Newsletter campaigns. I will be covering everything about MailChimp including –
Integration in WordPress
Create Subscribers List in MailChimp
Creating Email Subscribe Form in WordPress Website
Design your Newsletter/emails and sending them
You can create your MailChimp account from here. You will be happy to know that it is a Free Service for up to 2,000 subscribers and 12,000 emails per month and there is no need to add your Credit card when creating your account.
MailChimp Integration in WordPress
The MailChimp WordPress Plugin can be downloaded from here. After installing and activating it, you need to connect it to your MailChimp account.
If you are new to WordPress then you may probably like to learn How to
Install Plugins
in your WordPress website.
To connect the plugin to the MailChimp account I will need API key. This API key can be created from our MailChimp account itself.
Follow these below steps to create an API Key -
1. Click your profile name, to expand it, and choose Account.
2. Click the Extras drop-down menu and choose API keys.
3. Click the Create A Key button.

The API key will be created.
Next, go to Settings > MailChimp Setup area in your dashboard and paste the API key in the textbox, then click the Connect button.

This will connect the MailChimp WordPress Plugin to the MailChimp account.
Now I will need to create a list in my MailChimp account where emails of my subscribers will be collected.
MailChimp List of Subscribers
In your MailChimp account, first click the Lists at the top, then click Create List.
Also check this related tutorial on
MailChimp Form
covers everything related to creating forms in MailChimp.

Next, fill up the details for the list like list name, Default from email address (email where people can reply to), Default from name (this is who your email will come from), etc.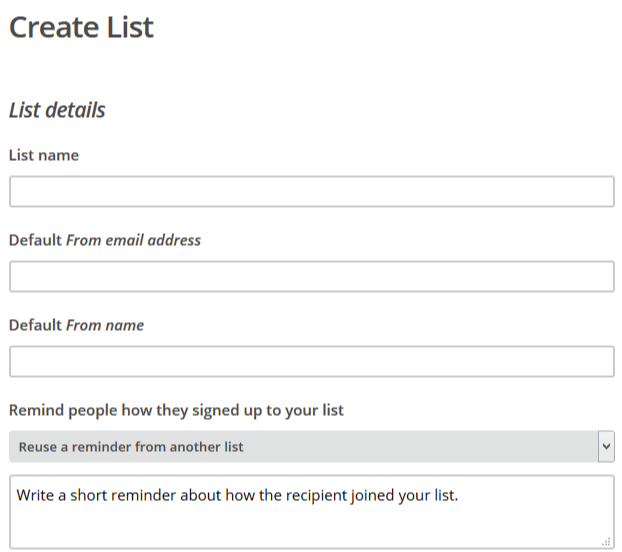 MailChimp WordPress Plugin List Setup
The List is created, next I have to do List Setup in my MailChimp Plugin. So go to Settings > MailChimp Setup, there in the top dropdown control select the list which you created earlier, and then click the Update List button.
This will make sure that whoever subscribe to the newsletter (by submitting the Subscribe Form) will be added to this list automatically.

MailChimp Subscribe Form
In the same MailChimp Plugin's Settings Page, I can start applying different settings for the form. Under the Content Options I can give the Subscribe Form header and sub header text, and also text for the submit button.
Every WordPress website should have
Yoast SEO
plugin for doing proper SEO in order to gain a good amount of traffic from Google searches.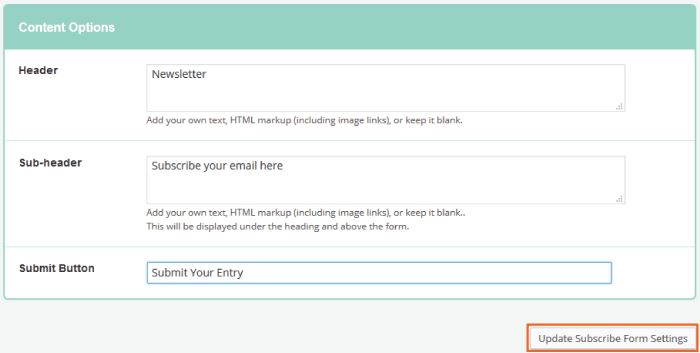 Under the Custom Styling
You can also provide some styling (like text color, border color, background color and border width) to your Subscribe form.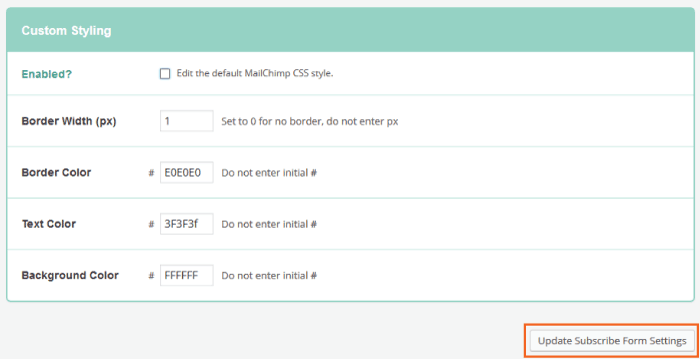 Under Merge Fields Include
You can set which fields to show in the subscribe form. Tick all these three fields and click Update Subscribe Form Settings button to save.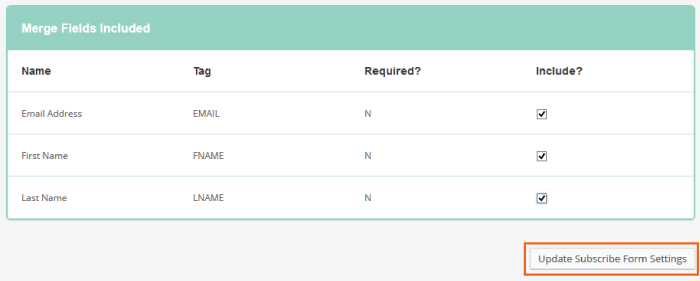 Now I have done the settings part. I just need to show the form in my website. To do this, go to Appearance > Widgets area of dashboard, and simply drag and drop MailChimp Widget in any of your Sidebar.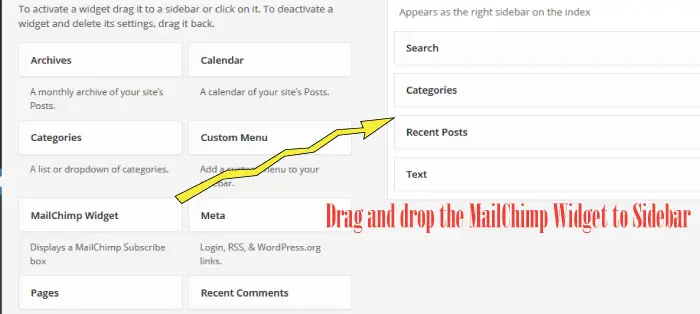 That's all, our MailChimp Subscribe Form shows up in our website
Now people can fill up their details to subscribe to my mailing list.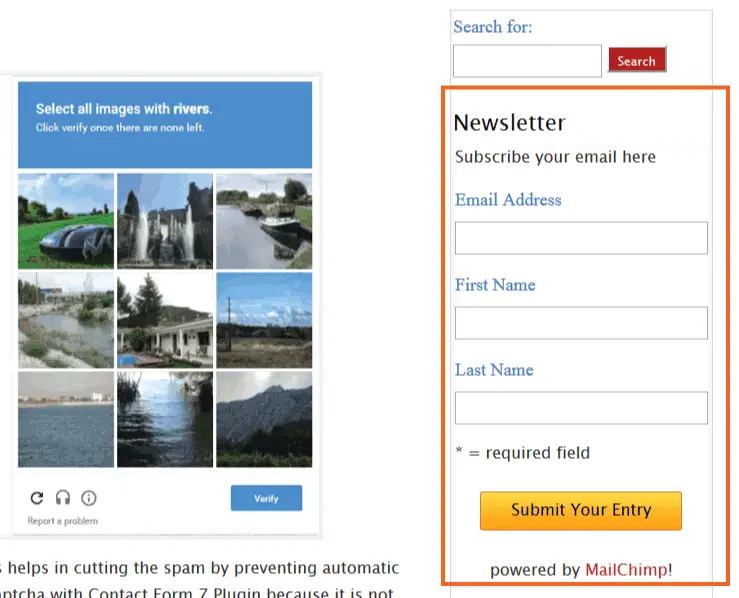 Send Emails to List Subscribers with MailChimp
I can now send email to our subscribers from MailChimp. For this I have to create a Campaign, so click on Campaign tab then click on Create Campaign button.

In the Campaign type screen select Regular Campaign.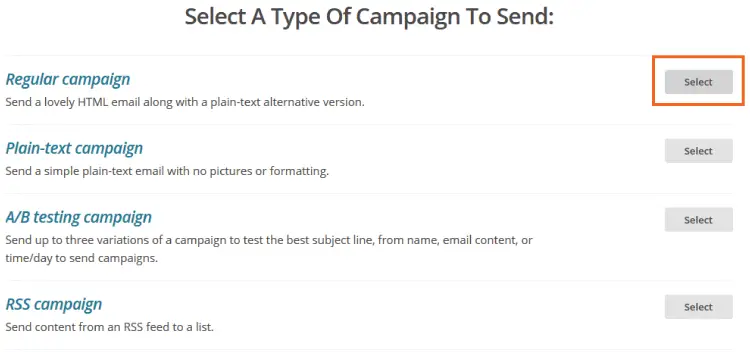 Next select your list and click the Next button.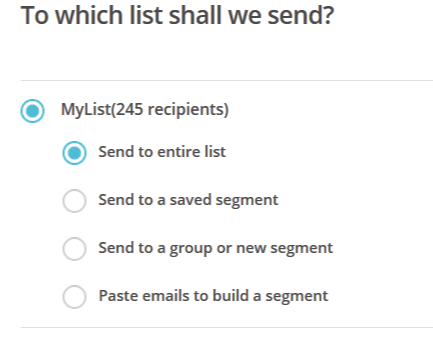 Next in the Campaign info screen, give your campaign a name, subject, from name and from email address. There are various other things which you can select, like tracking and social media options.
Click on Next button to go to the next step where we can select the templates.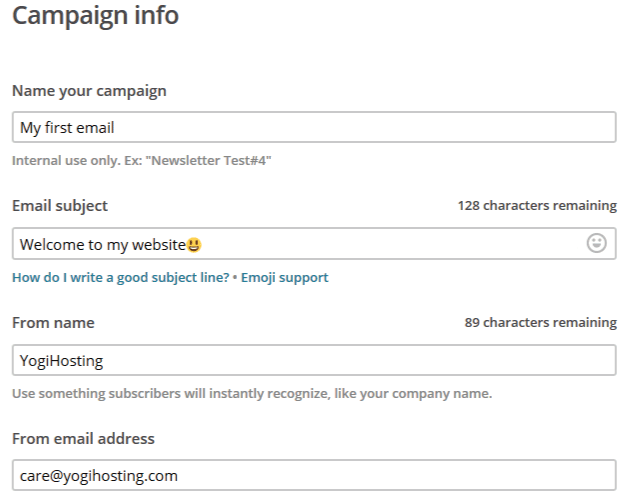 MailChimp Templates for Emails
(more…)