Running website or blog through WordPress.com is good but only up to a certain point then you have to move your website to self-hosted WordPress i.e. WordPress.org.
The reason to transfer your website from WordPress com To WordPress org is mainly because self-hosted WordPress (WordPress.org) provides you with full control of your website (Themes, Plugins & code). This full control of your website is missing in WordPress.com.
Benefits of WordPress.org
Totally Free and you don't have to pay for adding stuffs and features to your site.
You can use millions of Plugins that are free to use from WordPress.org repository.
Show ads in your website and earn money.
Free to use millions of theme without restrictions.
WordPress.com sometimes restricts some websites that are not following its policies. This is not there when you are using Self Hosted WordPress.
Serious bloggers should use WordPress.org
If you have decided to transfer from WordPress com To WordPress org then this tutorial will help you in this regard. I will cover everything from transferring all of your website content (including images) in step by step procedure.
This transfer procedure is fast and very easy. Beginners and people with no coding language can also do it by their own.
So let's start with this Transfer From WordPress com To WordPress org tutorial.
Before We Start
Before starting this transfer from WordPress com to WordPress org, you need a Domain and Web Hosting. Both these things you can get from our site itself, check the below links:
We Recommend Managed WordPress Hosting.
Managed WordPress Hosting is specially made for WordPress websites and blogs therefore for best results buy only Managed WordPress Hosting.
If you are using a Custom Domain in your WordPress.com account then I would suggest you to do the Domain Name Transfer to us. Once the domain is transferred to us you can then start the transfer procedure.
When you are ready with the Domain and Hosting then follow the below steps:
Step 1: Install WordPress in Your Hosting
First you need to Install WordPress in your hosting so follow the tutorial: WordPress Installation in YogiHosting which covers the WordPress installation part.
It takes no less than 1 minute to Install WordPress.
Step 2: Exporting Data from WordPress.com
Log in to your WordPress.com account and click the "Settings" link. In the page that opens click on the "Export" tab. Finally click the "Export All" button.
WordPress will Export all your website data to a zip file and give a "Download" button on the same page. Click on this button to start the download.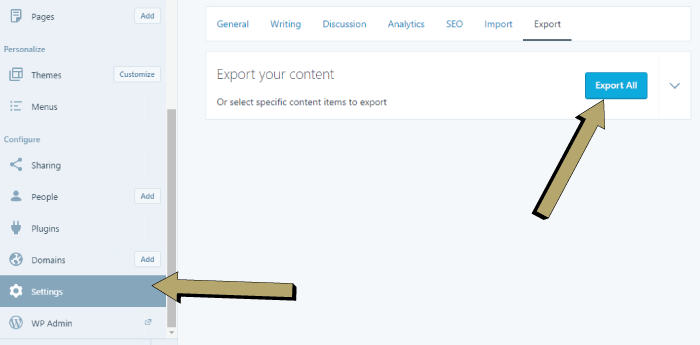 Step 3: Importing Data to WordPress.org
You have already installed WordPress to your hosting (see step 1) so Login to this WordPress (Self Hosted one).
Now go to "Tools > Import", here WordPress will ask you to choose an import system. So click on the "Install Now" link in the last one i.e. "WordPress".
It will be installed in a few seconds and you will get the run "Run Importer" link, click on it.
You will be taken to "Import WordPress" screen from here you can start the data import. Do you remember the downloaded zip file from step 2?. Extract this file to find an .xml file. This file contains the data from your previous WordPress website.
Click the "Choose File" button and select this .xml file. Next click the "Upload file and import" button.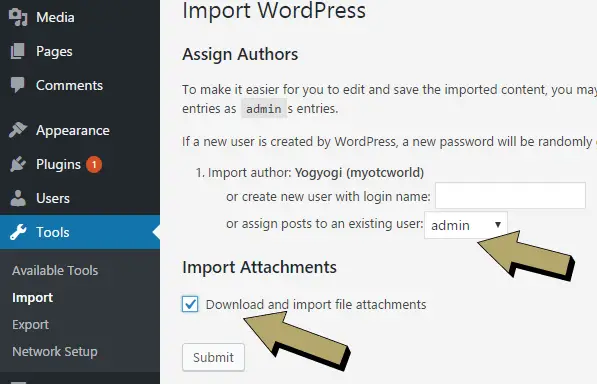 When you start importing, you can assign content to a current user or create a new user. You'll also see the option of "Download and import file attachments" (check this box to ensure that your images are imported).
That's all for the import, you successfully did the Transfer from WordPress com to WordPress org.
Step 4: Set Your WordPress.com Site as Private
After finishing the transfer you should make your previous website as Private. Private website is only visible to you and users you approve.
Go to "Settings > General" in your old WordPress site and find this settings under the "Privacy" area.

Conclusion
You can now fully control every area of your WordPress.org site and do whatever changes you like without asking anyone's permission for it.
Check out some of the important articles covering WordPress –
Please share this article to help others do the transfer.